Posted on
Friday, July 13
Karen Valentine of My Desert Cottage is hosting a party called Where Bloggers Create. This is the fourth year for this party but the first time for me and I'm so glad you stopped by and I am excited to take you on a tour of where I create. Thank you Karen for hosting this fabulous journey!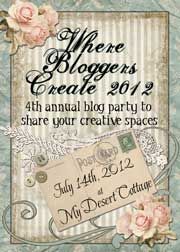 For those of you who don't know me I am a mixed media and digital artist. I am known as Gail Schmidt, Shabby Cottage Studio and Creative Workshops. Shabby Cottage Studio is my online store and my blog. Creative Workshops is my online venue for artistic video workshops offered up by a variety of fabulous teachers. I also have an Etsy store and a booth at a local and very yummy and popular antique mall called The Corner Nest. I also teach online classes. You could say I have a finger in several pies at once. :) I have been creating and selling some form of artwork for the past twenty years. I've sold in boutiques, in galleries, in my own brick and mortar store, and now for the past 7 years, online, first through Ebay, then Etsy and then my own web site.
Like so many of you I have often dreamed of the perfect studio, but budget and space prohibit the actuality of that dream. I do count my blessings though because I know not everyone has a dedicated space for their artwork and I do. My perfect spot would be spacious, there would be a workstation for everything that I do, from sewing to soldering, and it would be pretty with lots of shabby vintage furniture for every kind of storage imaginable. I may not be able to have the space I would love to work in, but I love the space I do have to work in and have made it mine.
So let's go see the real thing...my second home!
We live in an 85 year old house. Back in the day the rooms were small with many doors and windows in each room to help control heat and cold. So all our rooms are fairly small without a lot of wall space.
From our living room you walk into "Part 1" of my studio...otherwise known as "Command Central", where I run the businesses and create my digital art. Where would we be without our computers and printers?! I often have to spend more time here than in my studio so I made it pretty and comfortable many years ago. You can see the screen door of my studio and how close I am to each room, no matter which room I am in. I love the walls in this room, I did a sort of fading aged "ombre" wash over a soft sandstone texture above the chair rail. I painted the floor and distressed it since I knew it would get scratched anyway with 3 animals and one man in the house. :)
I love my window. I have a fabulous lilac tree just outside with a bird feeder and many feathered visitors. And when that tree blooms the smell is absolute heaven!
I also love my desk. Mr Shabby cut a hollow core door as I needed something L shaped. I collaged the surface with lots of images and then covered it all with a sheet of plexiglass.
I don't have far to walk to get to my shipping supplies. I keep them in this "married" cabinet I created out of the top of an old hutch and a child's armoire. The doorway leads into my living room. We had to cover up an old non working gas fireplace to create this wall as I had no wall room in here except for the desk. There are three huge windows and the two doors, plus a closet door taking up most of the walls.
So now we get to the "studio"! I love my screen door and it was a perfect solution for everything! The room is small, about 9x12, the door took up so much visual space standing open in the studio, and I am claustrophobic,so shutting that door was never an option. So voila! The screen door solution! It tickled me pink!
I thought I would give you an overview of the whole studio and then move in a bit closer to look at problems I have had to solve and some of my storage solutions. I know a lot of you know you have to get creative in a small room.
I did clean up for you so COME ON IN!
Immediately to my left is what you would see. That door leads to a hallway where I keep a couple more cupboards for store inventory.
And immediately to the right is this view...
...and this. I love this area because once again I asked Mr Shabby to help and he came through with this long counter type worktable that wraps around right into my closet!
Pretty much this is what you would see before you as you step through the door. More on my "room within a room in a moment".
So upon entry if I turn around this is my view back into "Command Central".
Now lets walk around the room and move in a little closer.
I have recently developed an interest in creating jewelry. My dilemma was I had an old chest of drawers in this spot that held all my laces and I used the top for ironing. I loved the convenience of it all and hung onto it as long as I could, but finally decided it had to go. I am very lucky that Mr Shabby is a woodworker and I can call on his talent to help me out. He attached a table top to my long worktable so now I have this huge U shaped work area that takes up one whole side of the room.He also made some deep drawers for storage of tools.
But what I truly love about these drawers is he put them on casters so I can roll the whole thing out and have another small work surface if needed! What a man!
It's small but so is jewelry! :)
You may be starting to get the limited wall space I mentioned. This is where I do the majority of my work with two huge windows in front of me that take up most of the 9 foot wall.
To the right of my work area are my "use all the time" supplies and pretty much within arms reach. Which is often a good thing since I don't have to get up all the time to go find something. So small can be good. :)
I did give up a squidge of wall space for my new inspiration board...I need a little pretty right?! But let me tell you it is tightly wedged right up against the window frame. LOL The fan is for when I solder.
Moving on to the left you see where we converted the closet into a more useable space for sewing, fabric and more storage. Another cool thing Mr Shabby did for me is hook up the tv to work with my computer, so if I want I can flick a switch on my computer and voila, I can look at a video class, watch a Netflix movie, tv or listen to music. I loves me a resourceful man!
Not one to waste space we put shelves for my fabric on the inside of the closet. This is to the left of my sewing machine and there is another to the right with more fabric.
More of Mr Shabbys' handiwork. I had seen a metal set up similar in structure to my paint table at Lowe's, but coudn't afford it. So Mr Shabby built me one that would fit my space even better. Now here is where my 'room within a room' idea came from.
Where to place my new paint table? I could have run it parallel to the wall to the left of the closet but then I would lose valuable storage space. So I ran it at a right angle out from the closet wall and with a cupboard extended from my hallway door I created another, albeit very small, "room" in my studio. We'll take a closer look in just a minute.
I
I can literally touch my worktable when I stand or sit here and paint. Great for multitasking! :) And under the table is a good spot to store my large pads of watercolor paper and dirty paint bucket. I often stand when working at this table.
My room may not be large but I do have 10 foot ceilings so where I can't build out I can build up...well...Mr Shabby can! :)
I placed this dresser at the end of my paint table and it gave me back an ironing spot plus more storage.
Here hopefully you can see the white storage cabinet at right angle from the wall to create a mini "wall". I added a small shelf to the side of the cabinet to carve out yet a few more inches of storage. The small chest of drawers holds stamps and punches and is also my paper cutter "station" and storage for my catch all project baskets. I moved a vintage dresser and cabinet into this "room" to use for all kind of storage. And I did manage to find a spot in this corer for a little bit of art display.
Where the dresser and cabinet leave a corner, I put that space to use for my rolls of paper, fabric cutting board and odd large pieces.
I was able to squeeze a small shelf in that corner and stack a couple drawers for my clay storage. As you can see I even use the chair rail ledge for storage. :) I found that strange hanger one day at the thrift store and it is waiting a use. I just know I will have a need for it. LOL
I bought this black cabinet many years ago with the intention of painting it and selling it. But it ended up in my dining room for a number years as a kind of pantry when I found I couldn't paint it or part with it. Last year when we re-did the dining room it came into my studio. It has amazing storage room within and as you can see holds a variety of items.
I thought I'd move in a little closer on a few of my storage areas. I love to see what ideas people have come up with for storage and I bet you do too.
Back at my jewelry table I took a wire shelf table top shelf and turned it upside down and hung it on the wall. You see I wanted that long rod at the top on the bottom so I could hang my clips. If you look at the top of the shelf...see the legs sticking in the air. :) Plus there was some weird divider bar on the shelves when it stood and it got in my way of stacking "stuff". It just works so well upside down!
Here again I use the chair rail ledge as a mini shelf. I do not have small fingers and I find these round storage containers are easier for me to get into or just spill the contents on my bead mat in order to pick through what I want.
Another small storage solution. This door opens against the wall rendering the wall pretty much useless. Until I asked Mr Shabby to build me some 3" deep shelves. Now I can store a lot of small items and it doesn't matter if the door is open or closed! Couldn't go out but definitley could go up.
Here is another upside down shelf. I wanted the deeper shelves within reach. I bought glass candle holders to hold my bling and some of my buttons. Can you tell I have jammed these storage pieces in pretty tight against one another. Eeking out those inches of space!
This is not a corner shelf but again, I jammed it in between another shelve and my inspiration board frame, drilled in some screws and called it a shelf. Actually it is a tool caddy turned on it's side. Some things I do but don't let Mr Shabby see it until it's a done deal. <big grin>
Yes another vintage tool caddy turned shelf.
A little muffin tin to catch little things.
Perfect for beaded trim.
Another catch all for small items. The doorknob? I use it for burnishing when I do a CitraSolve transfer.
A piece of wood turned into a bracket drilled with holes for storing tools.
Basket with a handle for scissors, pens, colored pencils and brushes, easy to carry to another room if need be.
This shelf actually had drawers but it gave me more storage to take them out.
On top of my white dresser I added a bookshelf and use it for lots of paper and ephemera storage. Store a few of my finished journals here too.
Here in my dresser I have all my "mark making" items and stencils within easy reach for painting...
my favorite stamps I tend to reach for...
and several drawers devoted to my love of lace.
I know I said I don't have much room for a lot of pretties like I dream of, but I do manage to squeeze a few in here and there.
So that's it! I'm thrilled you stopped by, I hope you enjoyed the tour and please come back and visit anytime. I love company! I can't wait to tour where YOU create!